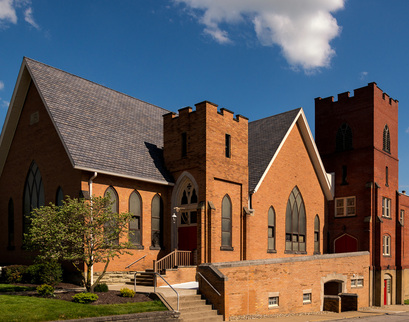 WELCOME TO
FIRST UNITED METHODIST CHURCH OF CANONSBURG

A member of the United in Christ
United Methodist Charge



Our Mission is to provide a relaxed, casual atmosphere that welcomes all to gather as friends
to worship so that by the power and grace of Jesus Christ we may gain strength, wisdom and knowledge to be a visible outreach of God's love to our community.


JOIN US FOR OUR SUNDAY BLENDED WORSHIP SERVICE
(Traditional Pipe Organ and Contemporary Worship Band Music)
8:45 AM
​Christmas Eve Services: 8:45 AM and 7:00 PM
Nursery Available
161 West Pike St., Canonsburg, PA 15317
Office Phone: 724-745-5771
Office Hours: Monday-Wednesday-Thursday, 9:00 AM-12:00 PM
​Office Closed Tuesdays & Fridays


SUNDAY SCHOOLS*:
Adult - Sundays, 8:00 A.M.
Bible Study - Mondays, 10:30 AM

*First UM Church is fully compliant with Safe Sanctuaries, a program protecting children, youth and vulnerable adults.


---
COMMUNICATIONS CENTER - January 18, 2018
We celebrate our United Methodist Special Sundays throughout the year by educating and then taking up a collection for special missions. This Sunday, we will celebrate Human Relations Day.
MISSION 2018 - Our 1st Quarter Loose Change Mission is to raise funds for The City Mission Veteran's Patriot House. For more information regarding this wonderful 2018 Mission, visit https://www.citymission.org/veterans/
Domestic Outreach classes held Thursdays at 5:30 PM in the Church's Library.
N.A. Meetings, Sunday evenings, 7:00 PM. Social Hall.
If you have a heart for service, we are seeking folks in various areas of ministry - the Welcome Committee, Lay Leadership, Pastor/Parish Relations, Trustees, Outreach, Publicity, Counters, Knots of Love Blanket Ministry (cutting blankets for tying), Homeless Mats (made with plastic grocery bags). Please let Pastor Deb or the office know if you'd like to hop on board with these important ministries.
Current Mission Collections:
-Loose Change - City Mission's Veteran's Patriot House
-Wayne's Closet - new or gently used pull-on clothing (t-shirts, sweatpants, sweatshirts) all sizes, men, women, children. Distributed to Emergency Rooms for patients who are treated, have no other clothing. Shoes especially needed.
- Clothing in any condition. Unusable clothing recycled.
Bin
located in our rear parking lot. Available 24/7 to deposit
bags of clothing. (ongoing). Mission Partners provides checks that are utilized for our youth camp scholarship fund.
- Eyeglasses/cases/sunglasses for the Blind Association
- Cell phones/accessories for the Women's Shelter, which are reset to dial 9-1-1.​
- Monthly Meals on Wheels donations
First UMC participates in all UM "Special Sunday" collections, to partner with our UM brothers and sisters in providing disaster relief, student assistance, etc. around the globe.
VISITORS: