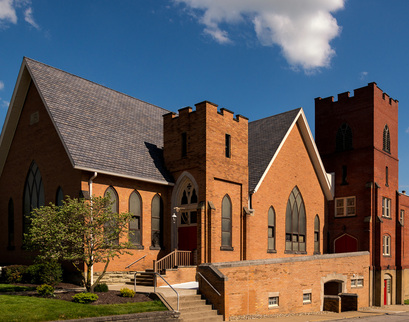 WELCOME TO
FIRST UNITED METHODIST CHURCH OF CANONSBURG

A member of the United in Christ
United Methodist Charge






Our Mission is to provide a relaxed, casual atmosphere that welcomes all to gather as friends
to worship so that by the power and grace of Jesus Christ we may gain strength, wisdom and knowledge to be a visible outreach of God's love to our community.


JOIN US FOR OUR SUNDAY BLENDED WORSHIP SERVICE
(Traditional Pipe Organ and Contemporary Worship Band Music)
8:45 AM
161 West Pike St., Canonsburg, PA 15317
Office Phone: 724-745-5771
Office Hours: Monday-Thursday, 9:00 AM-12:00 PM


SUNDAY SCHOOLS*:
Adult: Sunday Mornings at 7:57 A.M. prior to Worship Service
Bible Study - Monday mornings, 10:30 AM

*First UM Church is fully compliant with Safe Sanctuaries, a program protecting children, youth and vulnerable adults.


---
COMMUNICATIONS CENTER -July 28, 2016

Join us after worship this Sunday as we celebrate our July birthdays and anniversaries with light breakfast fare after worship! All are welcome!!
Monday, August 1, 10:30 AM - Our Monday morning Bible study returns!!! We will be using a new book entitled, "Meeting Jesus" by Leighton Ford. AND, starting September 12 at 7:30 PM, Pastor Deb will be offering this same Bible study for our folks who prefer the evening adult Bible stud group! Come and join us!
FAMILY MOVIE NIGHT ON THE LAWN - MONDAY, AUGUST 15, 8 PM. "The Minion Movie". Bring your chair!! All are welcome!!
MOVIE NIGHT - "Risen", September 19. Save-the-date. More details will be coming! We will hold this one indoors!
​If you have a heart for service, we are seeking folks to be greeters, ushers and counters. Please let Pastor Deb or the office know if you'd like to hop on board with these important ministries.
Current Mission Collections:

- Blessings in a Backpack - Loose Change Mission
- Clothing in any condition. Unusable clothing recycled.
Bins located in our rear parking lot. They are available
24/7 to deposit bags of clothing. (ongoing)

- Eyeglasses/cases/sunglasses for the Blind Association

- Cell phones/accessories for the Women's Shelter, which

are reset to dial 9-1-1.​

We were excited to present the Canonsburg Youth Network/CYN a check for $500 through our weekly Loose Change Mission! We are blessed to be in partnership with them in reaching our children in the community!
VISITORS: