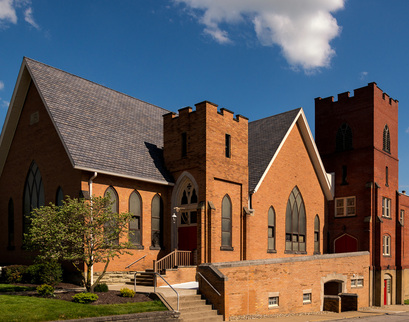 WELCOME TO
FIRST UNITED METHODIST CHURCH OF CANONSBURG

A member of the United in Christ
United Methodist Charge



Our Mission is to provide a relaxed, casual atmosphere that welcomes all to gather as friends
to worship so that by the power and grace of Jesus Christ we may gain strength, wisdom and knowledge to be a visible outreach of God's love to our community.


JOIN US FOR OUR SUNDAY BLENDED WORSHIP SERVICE
(Traditional Pipe Organ and Contemporary Worship Band Music)
8:45 AM
​Christmas Eve Services: 8:45 AM and 7:00 PM
Nursery Available
161 West Pike St., Canonsburg, PA 15317
Office Phone: 724-745-5771
Office Hours: Monday-Wednesday-Thursday, 9:00 AM-12:00 PM
​Office Closed Tuesdays & Fridays


SUNDAY SCHOOLS*:
Adult: Sunday Mornings at 7:57 A.M. prior to Worship Service
Bible Study - Monday mornings, 10:30 AM

*First UM Church is fully compliant with Safe Sanctuaries, a program protecting children, youth and vulnerable adults.


---
COMMUNICATIONS CENTER - December 7, 2017
Order your red Christmas Poinsettias now through December 10. They will adorn the Sanctuary for our Christmas Eve Service.
This Sunday, we will be taking up our monthly Meals on Wheels collection. Thank you in advance if you are able to help.

Meeting Reminders: Trustees: Wednesday, December 13, 6:30 PM
Leadership Team: Thursday, December 14, 7:00 PM

​MISSION 2018 - Our 4th Quarter Loose Change Mission is to raise funds to send a group on a Mission Trip next year to the Appalachias (OH, WV or KY). If you are even REMOTELY interested, we'd like to hear from you. Please sign up in the foyer or call the office. Pastor Deb would like to get an idea of how many would like to go.
If you would like an absolutely gorgeous 2018 calendar to give as a gift or to enjoy yourself, give us a call. We are selling beautiful 2018 wall and pocket calendars for $8.00 and $6.00, respectively. Call the church office: 724-745-5771, to place your order!
Domestic Outreach classes held Thursdays at 5:30 PM in the Church's Library.
HURRICANE DISASTER RELIEF- We will be collecting for UMCOR's Hurricane Disaster Relief funds. You can make your check out to the church but put which disaster project you would like to allocate the funds to (or put "as needed") on your memo line. You may also see our "Links" Tab above to donate online. 100% of your donation goes to the projects allocated.
N.A. Meetings, Sunday evenings, 7:00 PM. Social Hall.
If you have a heart for service, we are seeking folks in various areas of ministry - the Welcome Committee, Lay Leadership, Pastor/Parish Relations, Trustees, Publicity, Counters, Knots of Love Blanket Ministry (cutting blankets for tying). Please let Pastor Deb or the office know if you'd like to hop on board with these important ministries.
Current Mission Collections:
-Mission Trip Initiative 2018
-Wayne's Closet - new or gently used pull-on clothing (t-shirts, sweatpants, sweatshirts) all sizes, men, women, children. Distributed to Emergency Rooms for patients who are treated, have no other clothing. Shoes especially needed.
- Clothing in any condition. Unusable clothing recycled.
Bin
located in our rear parking lot. Available 24/7 to deposit
bags of clothing. (ongoing). Mission Partners provides checks that are utilized for our youth camp scholarship fund.
- Eyeglasses/cases/sunglasses for the Blind Association
- Cell phones/accessories for the Women's Shelter, which are reset to dial 9-1-1.​
- Monthly Meals on Wheels donations
First UMC participates in all UM "Special Sunday" collections, to partner with our UM brothers and sisters in providing disaster relief, student assistance, etc. around the globe.
| | |
| --- | --- |
| YOU WILL HEAR TRADITIONAL HYMNS ON OUR BEAUTIFUL PIPE ORGAN, AS WELL AS CONTEMPORARY WORSHIP MUSIC FROM OUR NEW DAY WORSHIP BAND | |
VISITORS: