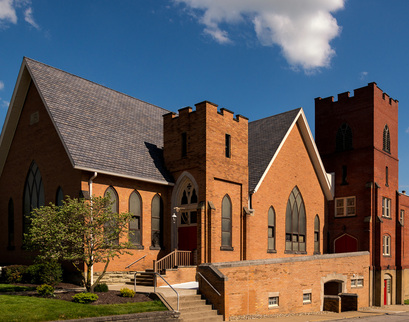 WELCOME TO
FIRST UNITED METHODIST CHURCH OF CANONSBURG

A member of the United in Christ
United Methodist Charge






Our Mission is to provide a relaxed, casual atmosphere that welcomes all to gather as friends
to worship so that by the power and grace of Jesus Christ we may gain strength, wisdom and knowledge to be a visible outreach of God's love to our community.


JOIN US FOR OUR SUNDAY BLENDED WORSHIP SERVICE
(Traditional Pipe Organ and Contemporary Worship Band Music)
8:45 AM
Nursery Available
161 West Pike St., Canonsburg, PA 15317
Office Phone: 724-745-5771
Office Hours: Monday-Thursday, 9:00 AM-12:00 PM


SUNDAY SCHOOLS*:
Adult: Sunday Mornings at 7:57 A.M. prior to Worship Service
Bible Study - Monday mornings, 10:30 AM

*First UM Church is fully compliant with Safe Sanctuaries, a program protecting children, youth and vulnerable adults.


---
COMMUNICATIONS CENTER - March 23, 2017

This was a special week around here. Our beloved organist, Sir John Yanda, made a professional recording utilizing our historic pipe organ. We are looking forward to the finished product!!
This Sunday, we will have our monthly Celebration Sunday. Please plan to join us after worship for light breakfast fare as we celebrate our March birthdays and anniversaries. All are welcome to attend.
We will be participating in our Special Sunday Collection for UMCOR Sunday (formerly known as One Great Hour of Sharing) this Sunday. Thank you in advance if you are able to help. UMCOR provides disaster relief around the world.
Our Acolyte Program will begin in April. Our youth Acolytes will serve monthly on the 2nd and 4th Sundays This program is open to youth ages 5-15. Please call the office and we will gladly get your children involved!
Domestic Outreach classes held Thursdays at 5:30 PM in the Church's Library.
N.A. Meetings, Sunday evenings, 7:00 PM. Social Hall.
If you have a heart for service, we are seeking folks in various areas of ministry - the Welcome Committee, Lay Leadership, Pastor/Parish Relations and Trustees. Please let Pastor Deb or the office know if you'd like to hop on board with these important ministries.
Current Mission Collections:
-Wayne's Closet - new or gently used clothing, warm or cool weather, all sizes, men, women, children. Distributed to Emergency Rooms for patients who are treated, have no other clothing. Shoes especially needed.
- Clothing in any condition. Unusable clothing recycled.

Bin located in our rear parking lot. Available
24/7 to deposit bags of clothing. (ongoing). Mission
Partners provides checks that are utilized for our youth
camp scholarship fund.

- Eyeglasses/cases/sunglasses for the Blind Association

- Cell phones/accessories for the Women's Shelter, which

are reset to dial 9-1-1.​

- Monthly Meals on Wheels donations

First UMC participates in all UM "Special Sunday" collections, to partner with our UM brothers and sisters in providing disaster relief, student assistance, etc. around the globe.
| | |
| --- | --- |
| YOU WILL HEAR TRADITIONAL HYMNS ON OUR BEAUTIFUL PIPE ORGAN, AS WELL AS CONTEMPORARY WORSHIP MUSIC FROM OUR NEW DAY WORSHIP BAND | |
VISITORS: