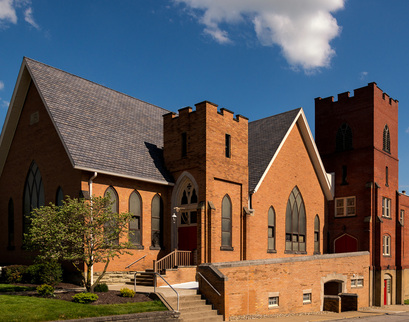 WELCOME TO
FIRST UNITED METHODIST CHURCH OF CANONSBURG

A member of the United in Christ
United Methodist Charge






Our Mission is to provide a relaxed, casual atmosphere that welcomes all to gather as friends
to worship so that by the power and grace of Jesus Christ we may gain strength, wisdom and knowledge to be a visible outreach of God's love to our community.


JOIN US FOR OUR SUNDAY BLENDED WORSHIP SERVICE
8:45 AM
Nursery Provided*
161 West Pike St., Canonsburg, PA 15317
Office Phone: 724-745-5771
Office Hours: Monday-Thursday, 9:00 AM-12:00 PM


SUNDAY SCHOOLS:
Adult: Sunday Mornings at 7:57 A.M. prior to Worship Service
Study of 1st Corinthians: Begins Mondays at 10:30 AM, Social Hall
All Ages (including Children) Sunday School 10:00 AM
*First UM Church is fully compliant with Safe Sanctuaries, a program protecting children, youth and vulnerable adults.


---
COMMUNICATIONS CENTER -July 22, 2015

Current Mission Collections:


- Non-perishable food items & personal hygeine items for the Veterans Project of our Kingdom Assignment! (ongoing) - Clothing in any condition. Unusable clothing recycled. Bins located in our rear parking lot. They are available 24/7 to deposit bags of clothing. (ongoing)

We had an amazing time at our Calendar Party on July 18, and wish to thank everyone involved, as well as all who attended, for making this an amazing fundraiser for our Relay for Life Buccaneer Team and Blessings in a Backpack!! We raised over $1400, and are going to continue our Children's Penny Collection each Sunday until we hit the $2,000 mark!!! Come and worship with us on Sundays and help us reach our goals!!!

We are already beginning to collect information about local Veterans who would like to be recognized in our November Veterans Day Annual program. If you are a veteran, please contact the church by calling 724-745-5771, or e-mail: cbgfumc@yahoo.com.

WHAT A BLESSING OUR "LISTEN TO THE MUSIC" EVENT WAS SATURDAY, JUNE 20! THANK YOU TO ROD AND OUR NEW DAY BAND FOR ALL THE ORGANIZATION, TO BILL FORREST AND TO PASTOR TOM BELLHY AND THE CIRCLE OF FAITH PRAISE BAND OF NEW HOPE CHURCH FOR YOUR PARTICIPATION. THANKS TO EVERYONE WHO CAME OUT TO SUPPORT THIS EVENT AND, ULTIMATELY, TO GIVE A GREAT DONATION TO THE CITY MISSION DISASTER RELIEF FUND. PRAISES!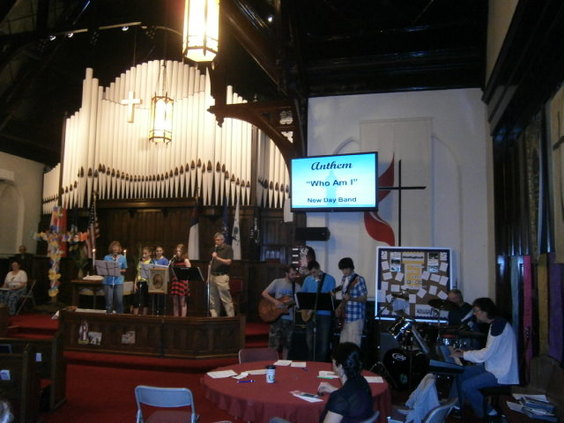 Contemporary Worship with
the New Day Band
---
VISITORS: